Detailed Product Description
1. Echo Karaoke Microphone
2.Compatiable with all kinds of audio player.
3. Li-ion battery
4.White/Green/Blue/Pink/Silver
2011 Newwest Design mini pocket Echo karaoke Magic kTV Microphone
Magic Karaoke Microphone, mini karaoke microphone, mobile phone karaoke microphone,karaoke computer microphone, digital karaoke microphone, karaoke echo microphone

This i9 mini multifunctional KTV migic echo karaoke microphone is the newest product in market. It's super magic and powerful. For music fans, MP3 and other media player can't meet their needs. If you do not only would like to listen wonderful music but also show your singing gift, you may invite some friends to KTV or with the help of professional multimedia device. All these situations show that we are restricted and can't sing anywhere and anytime freely. But now it's no problem. We create this mini ktv magic microphone, you can sing anywhere and anytime you want. You are free and can sing at home, in the car,outside anywhere as long as you have a audio player device which has 3.5mm audio jack port. All will come true. Let your Mobile, MP3/MP4, PSP, iPad, Laptop, Computer and another audio output devices which support 3.5mm audio jack port become your private KTV show. And just an extra audio input device such as speaker and earphone, you can start kalaoke. It can be an education and study tools for student and learner except entertainment. Makes your voice more louder, when reading can give students a favorable memory effect to help language learning. It also can be used as hearing aid.
Function keys:
1. Microphone volume control button
2. Surround mixing control button
3. Sound channel switch
4. Power on/off button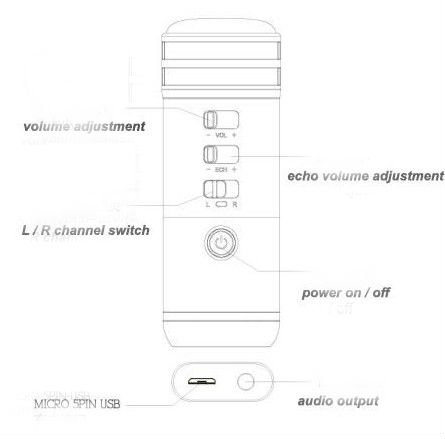 Features:
Audio input - Mixing - audio output
1. More convenient
comparing with normal microphone it's more convinent to take anywhere, you can put in your pocket, bag.
2. More widely useable
3.5MM Audio input interface can connect with moiblephone,mp3,mp4,mp5,computer,dvd,TV,laptop and other Audio output device
3. More economic.
KTV room or at home, big sound will noisy other people also spent much money. but this i9 mini ktv microphone can sing anywhere can connect many media players. also it's need low power. you can practice songs anytime, anywhere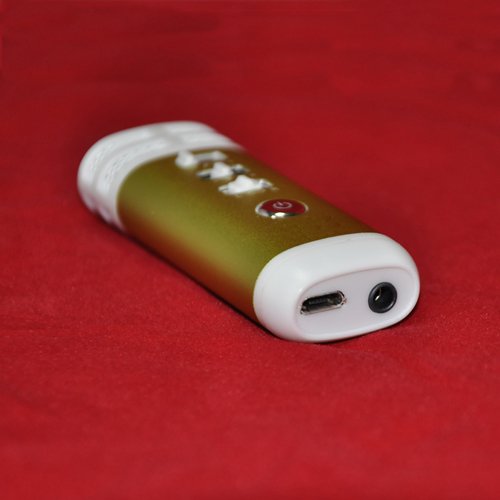 Specification
Built in 350MA li-ion battery
Power: USB charger
Using time: 4-5hours after charging
Voltage: 5V
Color: multi color
package including
1x mini Echo karaoke microphone
1x 3.5mm stereo earphone
1x USB charging cable
1x 3.5mm aduio input cable
1x instruction
1x gift box